Transparent and up-to-date documenting plays an important role in construction. It ensures availability of up-to-date information, reduces the number of errors, and improves quality. Documenting also generates information that is needed for the use and maintenance of buildings.
Fluent Fix is excellently suited for monitoring quality and occupational health and safety, and for completing pre-handover inspections. The application has a streamlined user interface that allows for e.g. recording observed errors and adding photos to layout drawings directly at the construction site using a mobile device.
The application also makes it easy to distribute information to others, ensuring that pre-handover inspection documents as well as lists of order of implementation and of defects are immediately available to everyone involved in the project.
Up-to-date and transparent documenting ensures that things run smoothly at all times.
Observations are saved in a database, from where they can be retrieved automatically for use in reports and other documents. This means that observations made at the worksite can be verified even long afterwards, allowing them to be used e.g. in the maintenance of buildings.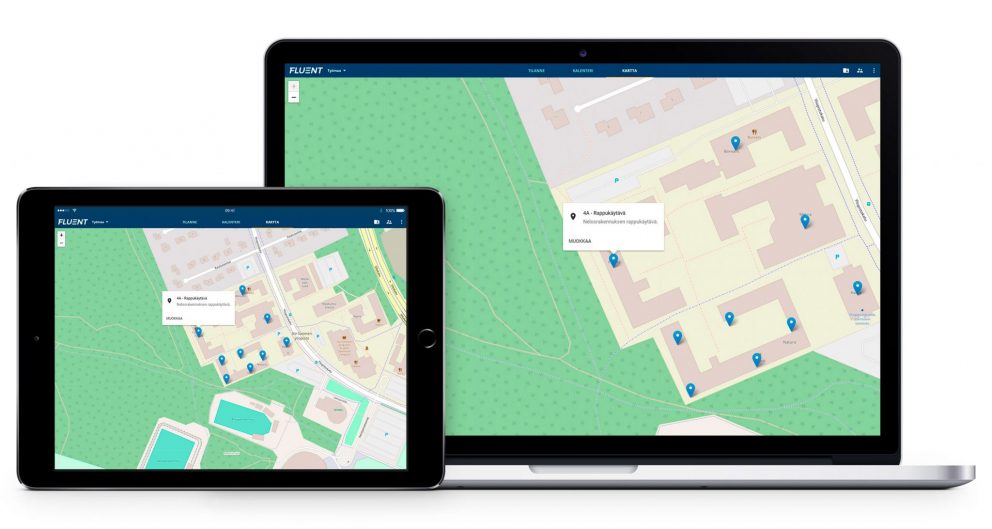 Adding layout pictures and inspection points, and adding several different observations to individual inspection points
Adding dates, graph data, view directions, and cover notes to inspection data
Messaging function
Managing location data, real estates, and worksites
Adding users and units
Search function for finding inspections
Contact us!
Say goodbye to thumb twiddling, wasted efforts, and incorrect resource estimates.